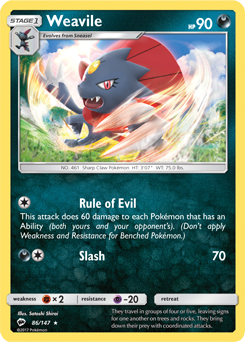 Klefki (STS #80), Electrode (EVO #40), and Shedinja (LOT #95) cards in the discard pile are treated as in play when doing damage for Rule of Evil if they were attached to a Pokemon when it was Knocked Out, which can result in a player taking more than the intended number of Prize cards. Due to the significant opportunity for exploitation, Weavile is temporarily banned from play until a fix for this bug can be deployed.
Mike Liesik
Pokémon TCG Online Associate Producer
The Pokémon Company International

Need help from the support team? Visit the support portal and submit a ticket!