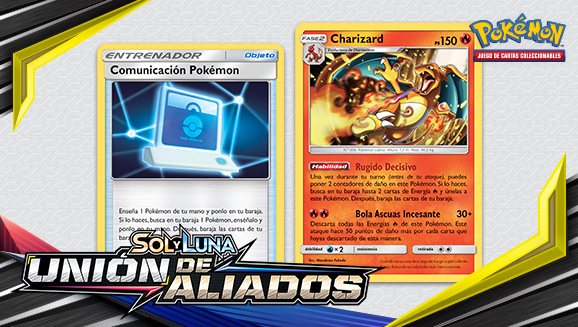 Aviva el fuego del combate con Charizard y Comunicación Pokémon de la nueva expansión Sol y Luna-Unión de Aliados.
Charizard es siempre un Pokémon popular, y su carta en la expansión Sol y Luna-Unión de Aliados es definitivamente interesante. La habilidad Rugido Decisivo te permite buscar en tu baraja hasta 2 cartas de Energía Fuego para unirlas a Charizard, lo cual está genial, pero hay una pequeña desventaja: primero debes poner 2 contadores de daño sobre Charizard. Aun así, este pequeño golpe a los PS de Charizard puede valer la pena...
Para leer más sobre esta expansión visita nuestra página web aquí.
Moderator Phoenix
Pokémon TCG Online Moderator

Need help from the support team? Visit the support portal and submit a ticket!