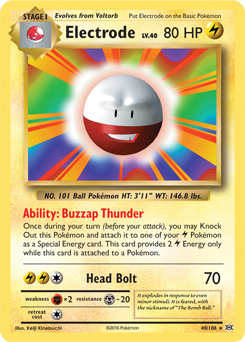 When Buzzap Thunder is used any Pokémon beneath Electrode are not properly sent to the discard pile and continue to be treated as in play after the owner's last Pokémon is Knocked Out. If the opponent still has Prizes remaining after the attack the match continues until either player loses by running out of cards in their deck. Due to the impact of this bug on 2 of the game's primary win conditions and the ease with which it can be encountered, this card has been temporarily banned from play until a fix can be deployed.
Mike Liesik
Pokémon TCG Online Associate Producer
The Pokémon Company International

Need help from the support team? Visit the support portal and submit a ticket!