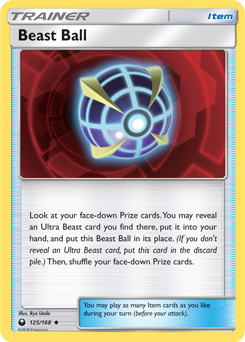 After a Prize has been taken at any point during the match, failing to find an Ultra Beast in the remaining face-down Prize cards, either by choice or because none are present, will cause 1 of those Prize cards to become unselectable for the duration of the match. Due to the impact of this bug on 1 of the game's primary win conditions and the ease with which it can be encountered, this card has been temporarily banned from play until a fix can be deployed.
Mike Liesik
Pokémon TCG Online Associate Producer
The Pokémon Company International

Need help from the support team? Visit the support portal and submit a ticket!