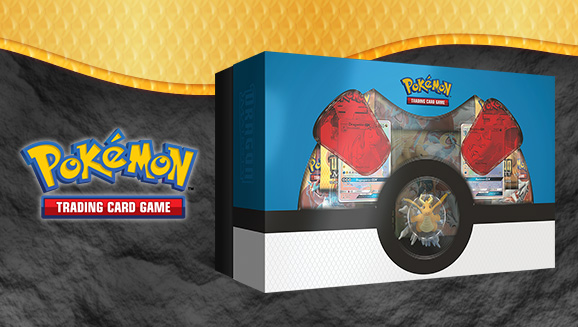 Lançamento: 19 de Outubro de 2018
Poderoso, rápido e extraordinário, Pokémons dragões têm sido parte do Pokémon TCG desde sua criação - e agora estão mais fortes do que nunca! Expandimos sua coleção com duas lindas e rara cartas promocionais Rainbow foil Pokémon-GX. Leia a história dos Pokémons dragões no Pokémon TCG e desfrute da fina escultura do Dragonite! Eleve sua coleção para novas alturas com asas, garras e fúria!
A Coleção Pokémon TCG: Dragon Majesty Super-Premium inclui:
1 carta rara Rainbow foil promo contendo Dragonite-GX com o ataque Dragonporter-GX

1 carta rara rare Rainbow foil contendo Kingdra-GX como o ataque Maelstrom-GX

1 linda figura do Dragonite

10 pacotes booster do Pokémon TCG: Dragon Majesty

3 cartas de colecionadores

1 tabuleiro para torneios ou para sua mesa

1 livro Dragons Then & Now

Um código de carta para o Pokémon Trading Card Game Online
A Coleção Pokémon TCG: Dragon Majesty Super-Premium estará disponível a partir de 19 de outubro de 2018, onde produtos Pokémon TCG estão disponíveis.
Moderator PãodeQueijo
Pokémon TCG Online Moderator
Muito Queijo!
Need help from the support team? Visit the support portal and submit a ticket!