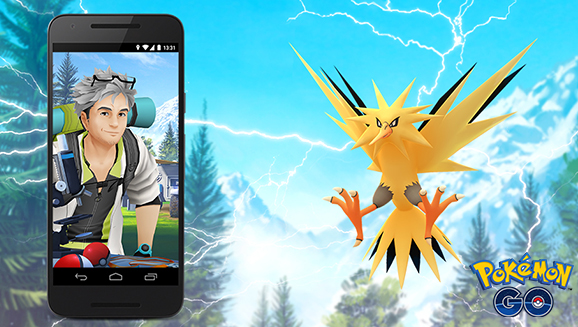 O Pokémon Lendário chega ao Pokémon GO como um Raid Boss por apenas três hora em 21 de julho.
O Desafio Global do Professor Willow continua, graças aos grandes esforços da comunidade, incluindo aqueles que participaram no Pokémon GO Fest, em Chicago, EUA, um encontro especial irá ocorrer em breve. No dia 21 de julho, treinadores de todo o mundo terão a chance de desafiar o Pokémon Lendário Zapdos em Raid Battles. Treinadores sortudos poderão até encontrar um Shiny Zapdos!
Horários do Evento por região:
Região Ásia-Pacífico: das 12:00 p.m. às 3:00 p.m. JST (GMT +9)
Europa, Oriente Médio, África e Índia: das 9:00 a.m. às 12:00 p.m. UTC (GMT +0)
Américas e Groenlândia: das 11:00 a.m. até às 2:00 p.m. PDT (GMT −7)
Durante esse tempo, todos os Zapdos capturados saberão a habilidade Fast Attack Thunder Shock. Adicionalmente, ao rodar um Photo Disc no Gym durante o evento, poderá receber até o máximo de 5 Raid Passes gratuitos.
Não perca a chance de capturar o Pokémon Lendário Zapdos! Adicionalmente, fique de olho no que está por vir no próximo Desafio Global durante o evento em Yokosuka, Japão, de 29 de agosto à 2 de setembro.
Moderator PãodeQueijo
Pokémon TCG Online Moderator
Muito Queijo!
Need help from the support team? Visit the support portal and submit a ticket!