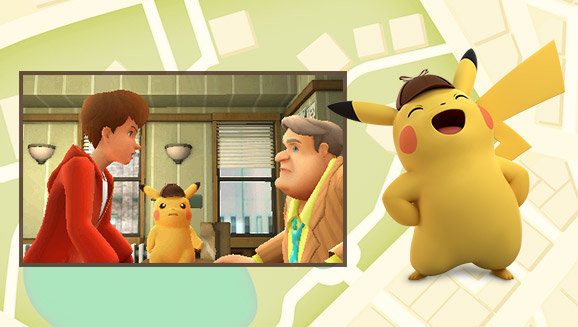 Forma equipo con un Pikachu un tanto insólito y resuelve el misterio de la desaparición de tu padre en este detectivesco juego de acción y aventura para Nintendo 3DS.
¿Te apetece probar un juego de Pokémon diferente a todos los demás? Detective Pikachu, disponible dentro de poco para la familia de consolas Nintendo 3DS, ofrece una nueva experiencia en lo que a jugabilidad y mundo se refiere. A continuación nos metemos de lleno en los tres primeros episodios del juego.
La mayoría de juegos de Pokémon se desarrollan en inmensas regiones, mientras que Detective Pikachu tiene lugar, más bien, en un área urbana y sus alrededores. En Ryme City, humanos y Pokémon interactúan de diversas formas: Pokémon salvajes que campan a sus anchas en un parque público, una jovial Ludicolo que trabaja como camarera o un Garbodor que ayuda en experimentos científicos. Desde el comienzo se aprecia un mundo en el que humanos y Pokémon conviven con naturalidad.
Para más detalles visita nuestra página web aquí.
Moderator Phoenix
Pokémon TCG Online Moderator

Need help from the support team? Visit the support portal and submit a ticket!