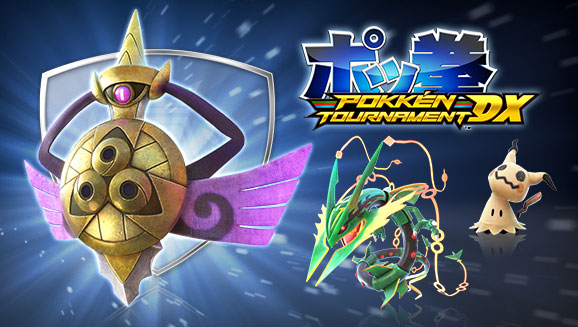 Aegislash y Blastoise, entre otros, se unen a la refriega en el nuevo Battle Pack para Pokkén Tournament DX.
Los combates Pokémon se van a volver aún más apasionantes con la llegada del Battle Pack de Pokkén Tournament DX. Este contenido descargable para la versión completa de Pokkén Tournament DX de Nintendo Switch se compone de dos rondas de contenido adicional que animarán la contienda más que nunca.
En la primera ronda se incluye el Pokémon de combate Aegislash, que puede alternar entre sus dos formas, ¡lo que lo convierte en una amenaza por partida doble! También hay un nuevo equipo de Pokémon de apoyo: Mega-Rayquaza y Mimikyu. En la segunda, podrás encontrar al Pokémon de combate Blastoise y el equipo de Pokémon de apoyo formado por Mew y Celebi. Además, este Battle Pack contiene nuevos objetos para los avatares, entre otras sorpresas.
Desde el 11 de enero de 2018, se podrá adquirir el contenido descargable Battle Pack de Pokkén Tournament DX por 14,99 €. La primera ronda estará disponible el 31 de enero, y la segunda, el 23 de marzo. Prepárate para aumentar tu lista de luchadores, ¡nos vemos en la arena!
Moderator Phoenix
Pokémon TCG Online Moderator

Need help from the support team? Visit the support portal and submit a ticket!