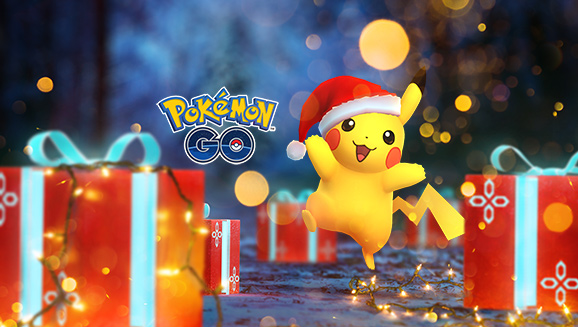 Como celebración de la temporada festiva, aparecerán más Pokémon y estupendos regalos a partir del 21 de diciembre.
Celebra las fiestas con un montón de Pokémon más y maravillosos regalos en Pokémon GO. Han empezado a aparecer más Pokémon de tipo Hielo y de tipo Agua originarios de la región de Hoenn, además de un Pikachu especial que lleva un llamativo gorro festivo. ¡No te los pierdas!
Asegúrate de explorar Pokémon GO cada día entre el 22 y el 25 de diciembre de 2017. Recibirás una incubadora la primera vez que le des una vuelta al fotodisco en una Poképarada durante esos días. Tendrás tu primera oportunidad de recibir una incubadora el 22 de diciembre a partir de la 1 p. m. PST.
Échales un vistazo a las diferentes cajas especiales que te ayudarán a reabastecer tu inventario. Todas estas cajas incluyen el nuevo objeto Trozo Estrella, el cual, al utilizarlo, aumentará la cantidad de Polvoestelares conseguidos por un tiempo limitado.
¡Disfruta de las fiestas y festeja el año nuevo con más Pokémon, regalos especiales e increíbles ofertas en Pokémon GO!
Moderator Phoenix
Pokémon TCG Online Moderator

Need help from the support team? Visit the support portal and submit a ticket!