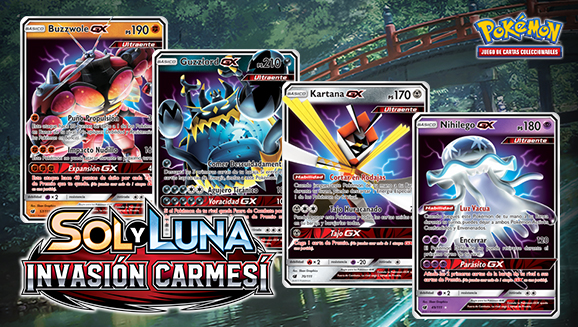 ¡Ya ha llegado por fin la oportunidad de tener en tu equipo a Ultraentes en JCC Pokémon! Buzzwole-GX, Guzzlord-GX, Nihilego-GX y Kartana-GX lideran la carga en la nueva expansión Sol y Luna-Invasión Carmesí. No solo es esta la primera oportunidad de coleccionar cartas en las que aparecen estas misteriosas criaturas, sino que los Ultraentes también incorporan su propio estilo a JCC Pokémon.
Los invasores Ultraentes verdaderamente parecen cartas de otro mundo. Tienen inusuales ataques y habilidades que añaden algunos nuevos e inesperados efectos a los combates, y algunos de sus ataques GX tienen un impacto en las cartas de Premio que nunca se habían visto antes. Tanto si lo que quieres es expandir tu colección como crear una baraja única y efectiva, sin duda querrás prestar atención a los Ultraentes. Visita nuestra página web aquí para mas detalles.
Moderator Phoenix
Pokémon TCG Online Moderator

Need help from the support team? Visit the support portal and submit a ticket!