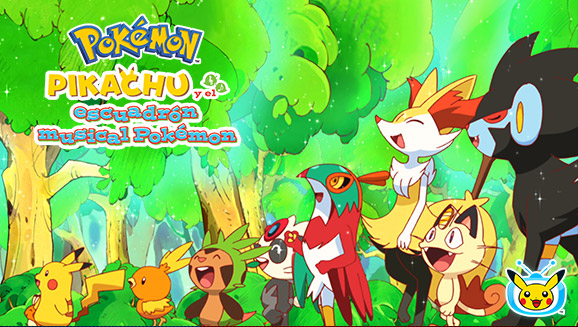 La actuación musical de la temporada, Pikachu y el escuadrón musical Pokémon, llega a TV Pokémon.

Una vez más es hora del Festival de las Bayas, y Pikachu se ha reunido con muchos otros Pokémon en el bosque para celebrarlo. En el cortometraje Pokémon Pikachu y el escuadrón musical Pokémon, los Pokémon están preparando una actuación musical para celebrar la cosecha de las bayas, pero, antes de que puedan saborear estos deliciosos bocados, su canción deberá sonar sin ninguna complicación. Desafortunadamente, los obstáculos que tienen lugar amenazan con impedir el espectáculo.

Meowth, por supuesto, no podrá evitar ponerse impaciente e intentará robar una baya antes de que suene la canción. Hawlucha, por su parte, no está seguro de su habilidad en el canto. ¿Podrán sus amigos convencerlo de que lo más importante de la música es disfrutar de la actuación? El mayor problema (literalmente) llega con un Snorlax que ha huido. ¡Este podría aplastar a los Pokémon antes de que emitan la primera nota!

Prepárate para cantar mientras ves Pikachu y el escuadrón musical Pokémon en TV Pokémon, aquí en nuestra página web, y también en la aplicación TV Pokémon.
Moderator Phoenix
Pokémon TCG Online Moderator

Need help from the support team? Visit the support portal and submit a ticket!