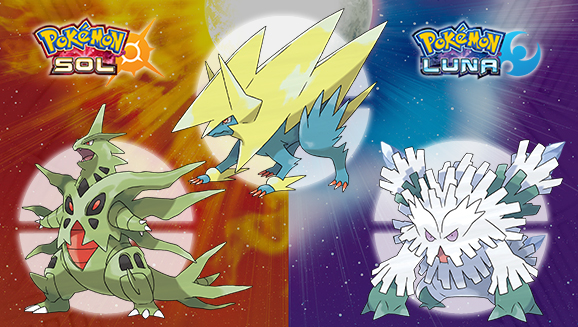 Las Megapiedras de este mes liberarán el poder de la megaevolución para contar con Pokémon aún más poderosos.
Usa el siguiente código para recibir la Tyranitarita, Abomasnowita, Manectricita y Aggronita en tu juego de Pokémon Sol o Pokémon Luna. Estos objetos permitirán a tu Tyranitar, Abomasnow, Manectric y Aggron, respectivamente, megaevolucionar durante el combate, ¡con lo que estos Pokémon increíbles serán aún más duros de pelar!
Código para las Megapiedras: SABLEVOLANT
Estos Pokémon no se pueden encontrar en estado salvaje en
Pokémon Sol
y
Pokémon Luna
, pero sí puedes transferirlos al
Banco de Pokémon
desde juegos anteriores mediante el Poké Trasladador. Durante el proceso perderán cualquier objeto que llevaran encima, así que, por ahora, el único modo de obtener sus Megapiedras en Pokémon Sol o Pokémon Luna es con este código.
Para conseguir las cuatro Megapiedras:
Elige "Regalo Misterioso" en la barra de inicio.
Selecciona "Recibir regalo".
Selecciona "Recibir mediante código o contraseña" y, después, "Sí". Elige "Sí" nuevamente para conectarte a internet.
Introduce tu código.
¡Observa cómo recibes las Megapiedras!
Habla con el repartidor o la repartidora en cualquier Centro Pokémon del juego para recibir las Megapiedras.
¡Asegúrate de guardar la partida!
Exprime al máximo el potencial de estos Pokémon colosales al hacer que megaevolucionen en Pokémon Sol y Pokémon Luna con estas Megapiedras impresionantes.
Moderator Phoenix
Pokémon TCG Online Moderator

Need help from the support team? Visit the support portal and submit a ticket!