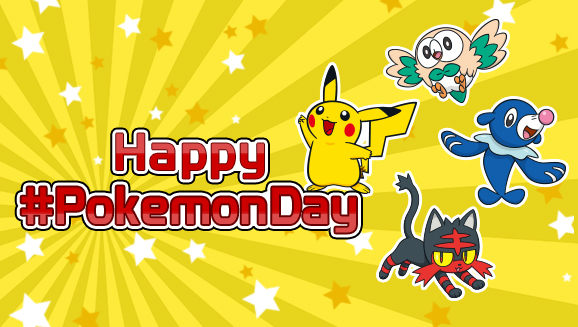 Join the fun of Pokémon Day with exciting events and promotions!

Pokémon Day is today, February 27! This day commemorates the launch of the very first Pokémon games in Japan way back in 1996. Several events and promotions are planned to celebrate this milestone.

The Pokémon Trading Card Game Online is starting its Pokémon Day festivities early, with extra Trainer Tokens available on the Bonus Wheel for the entire week leading up to Pokémon Day. Then, be sure to log in to your game today for an extra-special Daily Bonus!

The official Pokémon Twitch channel is also hosting an all-day celebration of Pokémon entertainment. Come watch exciting competitions, from the Pokémon TCG, video games, and Pokkén Tournament from the past several years.

Check out all the exciting Pokémon Day promotions by visiting the official Pokémon website! Be sure to use the hashtag #PokemonDay to share your favorite Pokémon moments.

We hope you have a wonderful Pokémon Day this February 27, and enjoy all the exciting Pokémon events and opportunities happening near you.
Moderator Turtle
Pokémon TCG Online Moderator
"Shello, how may I help you today?"

Need help from the support team? Visit the support portal and submit a ticket!